I have a music studio (bedroom studio) that I have been working with for many years now
I can provide composing, recording, mixing, and mastering
Music is a strong part of my life, I have been playing/studying piano since age of 5-and viola since 12. I have taken a strong interest in recording, electronic music, and production.
My studio has been sound treated with custom built Bass traps, absorbers and care was taken with monitor and furniture placement.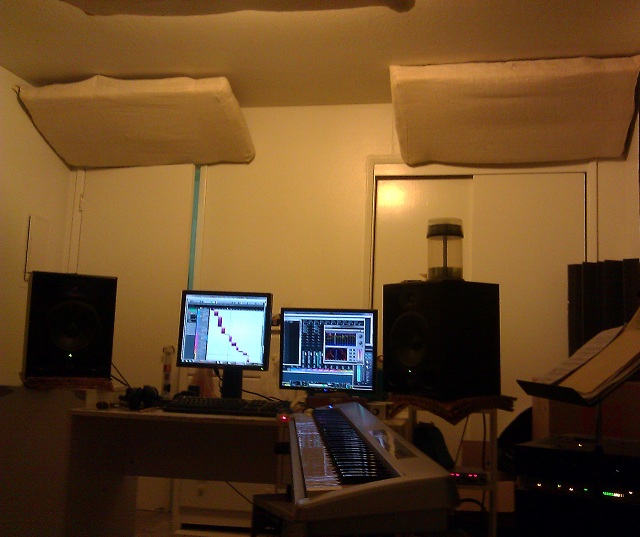 Equipment list:
Event Active Studio Precision 8 nearfield monitors
Apogee Rosetta 200 2/2 DAC/ADC
Grado Sr225i headphones
Maudio Delta 1010 8/8 DAC/ADC
Custom build computer with Intel i7 3930K 6 core CPU, and SSD
Earthworks, tc20 matched pair omnidirectional microphones
FMR RNP "Really Nice Preamp"
Nakamichi 390W Receiver/amplifier
10" Subwoofer
Alternatate monitors, and headphones
M-audio Keystation 88es
Charles M Stieff restored 1920's Parlor grand piano (real ivory/ebony)
Viola
Custom build stepped attenuator monitor control
Custom build ribbon microphone
...
Software List
Windows 7, Windows xp, Linux
Cubase 6
FL Studio
Reason
GoldWave
All Waves plugins
Voxengo Plugins
Antares plugins (autotune)
Flux (Epure)
Oxford Plugins
Altiverb
FXpansion
Korg Legacy collection
Native Instruments (Absynth, Massive, etc)
Sylenth
Many others....